• Bok Choy • Herbs • Kale • Komatsuna • Mint • Stirfry
Lei Cha is an iconic dish of the Hakka people. It typically comprises several sides of vegetables, and toppings like nuts, tofu, preserved radish, served drenched in tea soup.  There are stories that claimed that the origins of Lei Cha dated back 1800 years ago. When Shu Han 蜀漢 kingdom General Zhang Fei 張飛 was about to launch his attack on Chengdu during the Three Kingdoms era (220 - 280 AD), his soldiers fell ill to a plague epidemic. A traditional physician prescribed rice with a combination of herbs feed the troops. It cured Zhang Fei's soldiers and he went on to conquer Chengdu. And, that...
---
• Bok Choy • Breakfast • Chard • Kale • Mizuna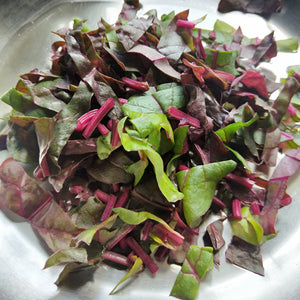 An easy and quick recipe that can also be used for kale and other stir-fry veggies. Serve it as a side to any roasted or grilled meat, or even as topping in your omelette!  Recipe is from NY Times Cooking. INGREDIENTS 100g swiss chard/ baby swiss chard (Stems may be removed depending on preference)  1 tablespoon olive oil 2 garlic cloves, minced  Large pinch crushed red pepper flakes  Salt   PREPARATION Stack chard leaves on top of one another (you can make several piles) and slice them into 1/4-inch strips. Heat oil in a very large skillet (or use a soup pot). Add...
---
• Bok Choy • Komatsuna • Mizuna • Salad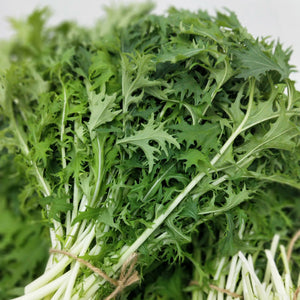 Mizuna
 is a leafy green vegetable that's native to East Asia. 
They have feathery serrated edges and have a glossy surface that make the green wonderfully decorative. 
While commonly used as part of a
salad
on its own or as part of a mix, it can also be enjoyed
cooked
or
pickled
. We've put together a compilation of mizuna recipes in this article. Let us know which on is your favourite!