• Kale • Lettuce • Mesclun Mix • Salad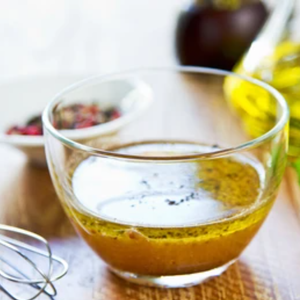 You could choose from the hundreds of salad dressing bottles available at any grocery store—or, you could remember a bit of salad-dressing arithmetic and know how to make vinaigrette anytime, anywhere, and with common ingredients in your pantry. Bonus: It'll taste better, and you'll probably spend less money in the long run. Here's a well-tasted recipe from Cookie and Kate that's easy to make and taste great! You can double or triple the amount of ingredients to make a big batch and use it over the course of the week (or two!) INGREDIENTS Recipe yields ¾ cup dressing, enough for about...
---
A lovely salad recipe from our customer N!  Ingredients: 200g Komatsuna 1 tablespoon of Japanese sesame dressing  1 tablespoon of sesame oil  1 teaspoon soya sauce 1 teaspoon Japanese liquid dashi stock (if using powdered dashi stock, simply dissolve half a packet in hot water and use 1 teaspoon) **If dashi stock is not available, simply increase soya sauce to about 1.5 teaspoon or 2 teaspoons, depending on taste) Ground black pepper to taste Directions: 1. Blanch komatsuna in boiling water for about 1 to 2 minutes. 2. Remove immediately when it wilts and plunge into ice water. 3. Remove...
---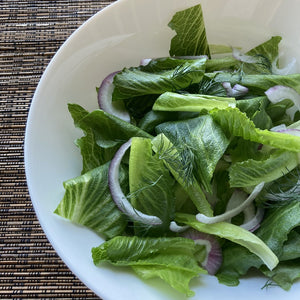 This is a simple salad that can be whipped up in seconds. The fresh dill sprigs add a depth of flavour and dimension to an otherwise simple side salad. Crispy gem lettuce is used in the this salad, but you could try with other crunchy lettuces like the crystal lettuce too.  Ingredients 2 crispy gem lettuce heads, leaves separated 10g fresh dill sprigs 1/2 small red onion, thinly sliced into rounds 1 tbsp extra virgin olive oil 1 tbsp lemon juice/ balsamic vinegar/ honey balsamic vinegar Putting the salad together  Roughly shred lettuce into 2cm-thick strips. Place in a large serving bowl with dill. Toss to combine. Top salad with sliced onion....
---
• Arugula • Herbs • Kale • Mesclun Mix • Salad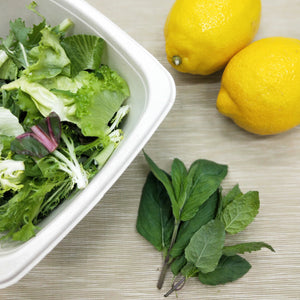 This mint dressing is as refreshing as they get. It's made with freshly squeezed lemon juice, extra-virgin olive oil, and lots of fresh mint. Honey, Dijon mustard and garlic round out the flavors and make it irresistible. Recipe is adapted from Cookie and Kate. INGREDIENTS ½ cup extra-virgin olive oil/ garlic or lemon extra-virgin olive oil/ avocado oil ½ cup lemon juice (about 2 lemons) 15g of fresh mint  3 tablespoons honey or maple syrup 1 tablespoon Dijon mustard 2 cloves garlic, roughly chopped ¼ teaspoon fine sea salt 10 twists of freshly ground black pepper  INSTRUCTIONS In a food processor, combine all of the ingredients and blend until smooth....
---
• Bok Choy • Komatsuna • Mizuna • Salad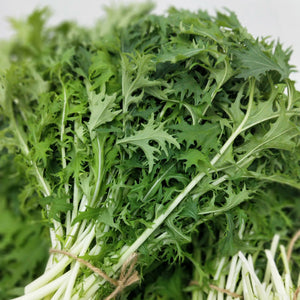 Mizuna
 is a leafy green vegetable that's native to East Asia. 
They have feathery serrated edges and have a glossy surface that make the green wonderfully decorative. 
While commonly used as part of a
salad
on its own or as part of a mix, it can also be enjoyed
cooked
or
pickled
. We've put together a compilation of mizuna recipes in this article. Let us know which on is your favourite!